Periodically I check the stats on my blog and recently I noticed that I had inched up the posting meter and was about to run the odometer over to 300. Are you one of those people who inadvertently looks at the odometer on your car and are surprised to see it rolling over a bunch of zeroes? Do we have some kind of internal counter keeping track and causing us to look up at just the right moment?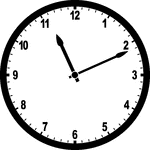 What is it in my internal clock that has me waking up at 3:33 a.m. so regularly? Or noticing when the clock on my wall or computer is suddenly at 11:11 night or day? I cannot recall the number of airline miles I have with any of the carriers I fly and would be astonished if my internal counter is keeping charge of that, but there are plenty of other numerical events that seem to be worth noticing, from my body/brain's point of view. And this must be the case for some other folks as well.
We are about to come to
12/12/2012
and that day will likely have folks keeping a watch out for 12:12 a.m. as well... if you go to the link, there is lots of information to entertain you and they are promising to keep it updated as the day progresses. For instance, did you know that the number
12
can be divided into halves, thirds, fourths, sixths and twelfths? Apparently people like to get married on days like this (9/9/09. 10/10/10. 11/11/11, etc.) but as we all know the number 12 limits the months in a calendar year in every language, so this will be the last year, last time to have a 12/12/12 date for a wedding. And from what I've been
reading
, there are couples that planned (
1,446 percent increase over last year!!)
this wedding date years ago!!
So, that begs the question, if the world is going to come to an end on 12/21/12 - nine days later - that should make the honeymoon segue into a very short marriage, probably shorter than Kim Kardashian's. What do you think about these number-focused events? Are you living like there is no tomorrow or waiting for 1/1/13?